​SWALLOWİNG DİFFİCULTİES ( DYSPHAGIA)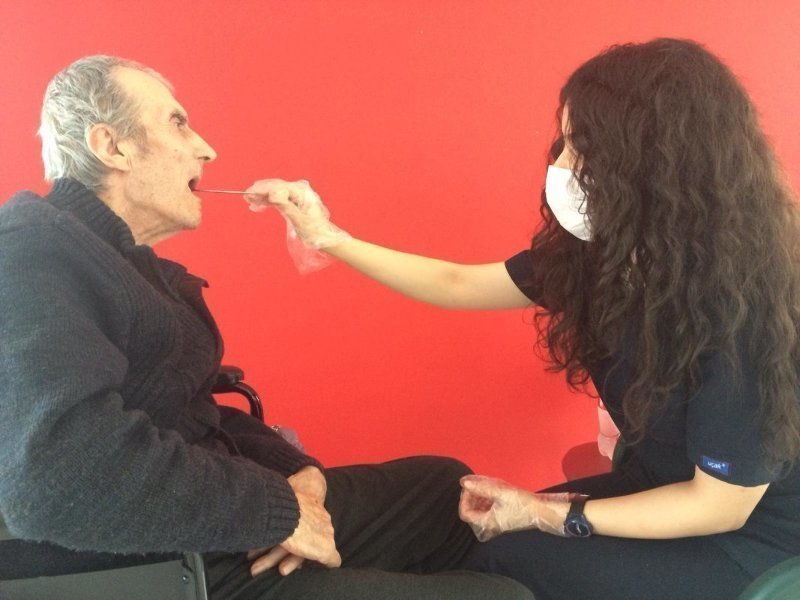 SWALLOWİNG DİFFİCULTİES ( DYSPHAGIA)
Fizyomer Physical Therapy and Rehabilitation Medical Center, Physical Therapy and Rehabilitation Specialist. Irfan Unver, gave information about dysphagia.
Defining swallowing difficulties, Ünver said "The swallowing incident involves many structures in the body; the brain is a movement that requires various nerves and muscles to work together systematically. Swallowing function is a complex process that requires voluntary and involuntary coordination of more than 40 muscle pairs and many cranial nerves. Difficulty in swallowing or dysphagia may occur at different stages of the swallowing process. Chewing and food and beverage confront us as difficulty in moving into the oral pharynx. It appears to be difficult to start swallowing, to send food and beverages to the esophagus, to prevent food and beverages from escaping to the trachea by going in the wrong direction. . It can be seen at any age. "
SWALLOWING DIFFICULTIES CAN BE VISIBLE DURING VERY DISEASES.
Unver said that swallowing difficulties occur as a result of which the course of the disease, "Neurological diseases; Hemiplegia (strokes), brain injuries, spinal cord injuries, Parkinson, Multiple Sclerosis, Amylotrophic lateral sclerosis (ALS), Myestenia gravis, Muscular dystrophy, Cerebral palsy, Alzheimer's, ENT diseases, oral and throat infections, stones of salivary glands, tumors, cancers , injuries in this area, carious tooth and dental problems, esophageal diseases and cancers. Diseases such as stomach diseases and reflux can cause difficulty swallowing. Apart from these, we can list rheumatic diseases, structural disorders, psychological causes. Therefore, after the definitive diagnosis is made by Neurology, ENT, Gastroenterology, General surgery and dentists, the necessary treatments are made by the relevant physicians. "
SYMPTOMS OF DYSPHAGİA
Referring to the symptoms that occur in patients with swallowing difficulties, Ünver said: "The following symptoms are seen in patients with swallowing difficulties; increased saliva, feeling of food or fluid getting stuck in the throat or chest, (especially in patients with reflux), stiff cough, feeling of foreign body in the throat, more effort and time to chew and swallow, pouring out of the mouth or pouring in the mouth "The voice is growling while eating and drinking."
CHRONIC LUNG DISEASE MAY OCCUR.
"Chronic lung disease can occur," said Unver, "the long-term dysphagia, patients can not eat too -for the pleasure of eating in the community does not want to participate in social activities like -for-up. The patient loses weight because he is not sufficiently fed. Since it does not get enough fluids, signs of dehydration appear. As a result of the food that the patient eats or the fluid he drinks from escaping to the lung, pneumonia and chronic lung diseases may occur due to aspiration ".
REHABILITATION OF PATIENTS WITH SWALLOWING DIFFICULTIES
Ünver, using the expressions "Rehabilitation of swallowing difficulties caused by neurological diseases" is made, "In treatment, after the diagnosis of the disease, which is the cause of swallowing difficulties, is made by the related branch physician, it is performed by these physicians in terms of medicine and surgery. In the Physical Therapy and Rehabilitation clinics, the diagnosis of neurological diseases is carried out and rehabilitation of the swallowing difficulties (disorders) caused by neurological diseases is carried out. In our clinic, the Swallowing Rehabilitation program is carried out by our physiotherapists trained in this field. The basis of this treatment varies according to the type and cause of swallowing difficulties. Swallowing maneuvers and exercises are used by a specialist physiotherapist in oropharangial dysphagia rehabilitation. The aim of the exercises is to strengthen nearly 40 muscles used in swallowing. The patient is taught swallowing and chewing techniques, mobilizations, postural strategies for safety of swallowing, nutritional modifications. In the implementation of this program, family members are provided to help with the exercise, to help monitor the amount of food and drink and to prepare their consistency. work is done to ensure nutrition. "
SWALLOWING DIFFICULTIES IN PATIENTS WITH CAUTION SHOULD BE
Saying to what the patients with swallowing should pay attention to, Ünver said, "In patients with swallowing diffuculties, it is recommended not to take alcohol and caffeinated foods, to take nutritious foods that are easy to digest, to stop food consumption 3 hours before bedtime, to sleep on a high pillow, to perform swallowing reflex exercises.
---
This post has been written by Physical Therapy and Rehabilitation Medical Center and viewed 2164 times.
---